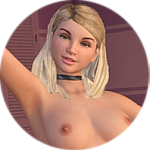 This custom story is not exactly a story.
This is the way of how to get sex all over the house between all the characters present in the game.
You really need to try this custom story...
There are no boring quests in this story, where you need to waste hours just to get to the blowjob. Here you can get sex right away and anywhere. Apart from the Player, other characters can enjoy sexy games too, just turn on the option to do so and enjoy.
All additional information can be found in the following articles in this thread. Also, if you have a suggestion, idea or something is not clear to you - do not hesitate to write here.

Translations:
French
...
Spanish
...
Chinese
Story updated to ver. 2.03-106
updated to Game version 1.0.6